Grinding & Combination Wheels
Depressed center grinding wheels from Mercer Abrasives are available in a wide variety of abrasive materials, styles, and sizes. The high-quality abrasive wheels are internally reinforced with high tensile strength fiberglass and balanced to avoid vibration. Single grit grinding wheels give a consistent performance at any angle while dual grit grinding wheels are best option for blending. Flexible depressed grinding wheels will flex to accommodate contoured surfaces, while grinding and blending in one step.
Choose between Aluminum Oxide, Silicon Carbide and Zirconia abrasive grain depressed center grinding wheels. Please refer to the Grinding Wheel Guide below for assistance choosing the correct grinding wheel for your application.
When choosing a grinding wheel, another option is the Type 27 depressed center combination pipe cutting and light grinding wheels, which were designed with ¼" width to allow the operator to cut and lightly grind without changing wheels. These dual-purpose abrasive wheels are for use on ferrous metals, fiberglass, metal, non-ferrous metals, plastics, steel, and stainless steel for cutting, light grinding, weld deburring, and dressing.
Type 27 vs Type 28 Grinding Wheels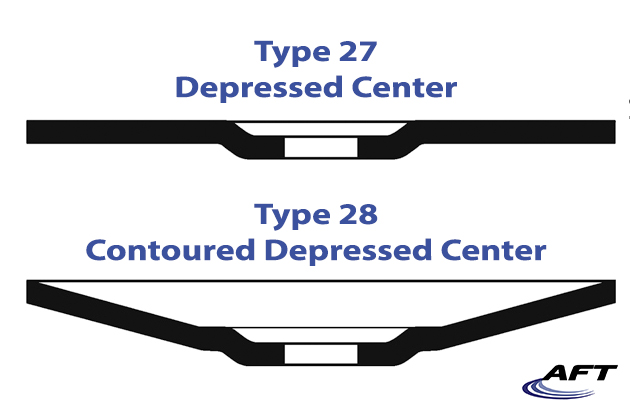 Grinding Wheel Guide
Grinding Wheel Guide
Style/Specs
Abrasive Material
Appliction
Advantages
Aluminum Oxide
Ferrous Metals, Steel, Structural Steel, Rebar, Iron Pipe, Bar Stock, Metal Tubing
Good value. Hard wheel. Long-lasting
A24S
Aluminum Oxide
Ferrous Metals, Steel, Structural Steel, Rebar, Iron Pipe, Bar Stock, Metal Tubing
General purpose wheel for metal. Most common formula.
AT24R
Heat-Treated Aluminum Oxide
Non-Ferrous Metals, Stainless Steel, Alloys, Ferrous Metals
Heat-treatement of grain makes this a high-performance aluminum oxide wheel. Great value.
AZ24T
Zirconia
Stainless Steel, Non-Ferrous Metals, Alloys
Self-sharpening grain. Lasts longer than aluminum oxide.
AC24R
Aluminum Oxide with Silicon Carbide
Aluminum and Soft Metals
Grain combination prevents loading.
C24S
Silicon Carbide
Brick, Block, Concrete, Natural and Artificial Stone
General purpose grinding wheel for masonry.