Blog
Posted by AFT Fastener on
Our fastener store at AFT Fastener loves all things and all industries linked to fasteners. We provide a wide variety of fasteners at affordable prices to all kinds of industries. Our fastener selection includes screw, bolts, anchors, nails, washers, nuts, rods, studs, rivets, cables, ties, pins, and more. Some of the industries that we supply fasteners to include aerospace, the military, petrochemical, MRO, OEM, engineering, construction, electronic hardware, towers, and more. Although our central location is in Dallas, we have distribution locations throughout the country so that we can serve our customers as quickly as possible. Today, we would like to discuss the history of one of the most common fasteners out there: the nail.
Definition
A nail is made out of a metal rod or shank that is pointed at one end and, in most cases, includes a formed head at the other end. Nails are hammered into wood or other materials in order to fasten them together. Usually, a nail is made out of steel, but it can also be made out of brass, aluminum, or other types of metals. Nails can be coated or plated in order to increase its gripping strength, decorative appearance, or its resistance to corrosion. Nails come in several different shapes based upon their desired function. In the United States, over 300 different types of nails are manufactured, and most of them are used in residential construction. In fact, the average American home consists of between 20,000 and 30,000 nails.
Three Categories Of Nails
Nails are divided into three categories that are determined by their length. Nails under one inch long are called tacks or brads. Nails that are between one inch and four inches long are called nails. When nails are over four inches long, they are called spikes. However, there is quite a bit of crossover between the categories, which are rather loosely defined.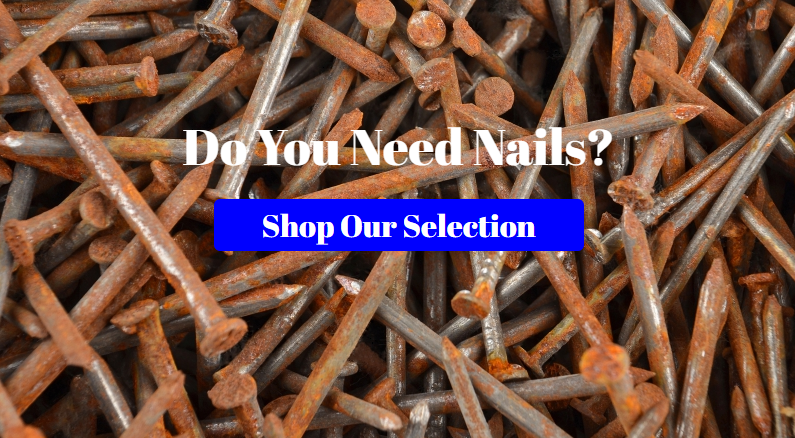 Penny
The length of a nail is measured in a unit known as a penny. This term originated in the late 1700s in England when it made an allusion to the price of one hundred nails of a certain size. For example, a 'ten penny nail," would cost ten pennies per hundred. The symbol for a penny is a "d,' and this symbol is believed to have originated during ancient Roman times. In ancient Rome, a similar form of measurement was used for the hand-forged nails that they produced. The "d" referred to the denarius, which was a coin commonly used for transactions in Rome.
Origins
The use of nails dates back to ancient times, and they are believed to have originated in Mesopotamia as early as 3500 BCE. The first nails were most likely made out of copper of bronze, and nails would later be made out of iron. Early nails were forged using hammers and were usually made one at a time, which made them rare and expensive.
Our fastener superstore includes a wide variety of nails and other fasteners to choose from. Shop our fastener tool and supply store today for the best selection at the best prices.
Here at AFT Fasteners, we provide a huge selection of fasteners and industrial supply products at affordable prices. Our fastener selection includes a wide variety of screws, bolts, anchors, nails, washers, nuts, rods, studs, rivets, cable ties, pins, and more. Our fastener superstore services a variety of industries, such as electronic hardware, aerospace, the military, [...]
Dial indicators are precision measuring tools with a myriad of applications in the science, technology and manufacturing fields. They are an essential tool in many machining and fabrication processes, but if you aren't an engineer or a machinist, you may have wondered… What exactly is a dial indicator? In the simplest terms, an indicator is a distance amplifying instrument. To indicate something [...]
Ask any fastener expert if a bolt can bend, and you will probably get an unequivocal "No, their strength is due to their rigidity." However, one engineering professor at California Polytechnic State University has turned that notion on its head. Working with students on a class project in 2000, Saeed Niku conceived of the idea of a "Flexible Fastener," [...]
...On a Screen Near YouOk, so it isn't playing at your local theater, but we hope you'll take a moment to view our new video. We here at AFT have been hard at work developing a new e-commerce site that will revolutionize the way you have ordered industrial supplies and fasteners in the past. Click the [...]